Are you a Christian mom that needs to teach your children God's Word?
This is the best app you can find: a Study Bible for women. Our mission is to provide you with the resources, tools, and encouragement you need to learn and teach the Word of God and then apply it to your life.
Catch up by getting into this Study Bible and then teach your children to read the Bible for themselves.
This app offers you:
– The complete King James Version with Matthew Henry commentaries
– Free downloading. This app is free of charge. Download it and share it with your friends and family
– It is an audio Bible. Listen to the Bible and experience the Word of God like never before!
Touch the audio icon to select the chapter or verse you want to hear. You can adjust the sound settings (speed, volume, treble, bass, etc.)
– Offline use. You can read or listen to the Bible without using an Internet connection
– The app allows users to highlight and bookmark verses as well as create notes.
Add verses to favorites and access them quickly and easily whenever you want.
– Send verses by email, SMS or WhatsApp and share verses on social networks, for example, Facebook, Twitter or Instagram.
Share your love for the Bible with others!
– Easily increase or decrease the font text size for a comfortable reading.
– Switch into night mode to invert the color of your screen for a high-quality reading
– Every time you open your Bible app, it goes back to the last read verse.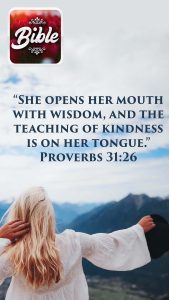 Find 10 minutes each day for deeper study and meditate on the teachings of the Scriptures while your kids work on their homework. Women Bible study is simple to install and very easy to use! Get your copy for free now!
Choose a book, a chapter and a verse and start reading:
The Old Testament is a collection of 39 books and it contains the creation of the universe, the history of the patriarchs, the exodus from Egypt, the formation of Israel as a nation, the decline and fall of the nation, the Prophets (who spoke for God), and the Wisdom Books.
The books are:
Genesis, Exodus, Leviticus, Numbers, Deuteronomy, Joshua, Judges, Ruth, 1 Samuel, 2 Samuel, 1 Kings, 2 Kings, 1 Chronicles, 2 Chronicles, Ezra, Nehemiah, Esther, Job, Psalms, Proverbs, Ecclesiastes, Song of Solomon, Isaiah, Jeremiah, Lamentations, Ezekiel, Daniel, Hosea, Joel, Amos, Obadiah, Jonah, Micah, Nahum, Habakkuk, Zephaniah, Haggai, Zechariah, Malachi.
The New Testament is a collection of 27 books written in Greek. It consists of the narratives of the life and ministry of Jesus, the acts of Apostles, letters called epistles written by various authors and the book of Revelation, which is a book of prophecy.
The books are:
Matthew, Mark, Luke, John, Acts, Romans, 1 Corinthians, 2 Corinthians, Galatians, Ephesians, Philippians, Colossians, 1 Thessalonians, 2 Thessalonians, 1 Timothy, 2 Timothy, Titus, Philemon, Hebrews, James, 1 Peter, 2 Peter, 1 John, 2 John, 3 John, Jude, Revelation.