Best Bible app! Download the Holy Bible now on your phone and bring the power of the Word to your daily life.
You can read, listen and share the Scriptures for free! And take your Bible anywhere you go!
Take advantage of great features of your new app:
– Free downloading. This app is free of charge. Download it and share it with your friends and family
– The complete King James Version with Charles Spurgeon's commentaries.
– Charles Spurgeon was the most extraordinary preacher of his day. He was called "The Prince of Preachers" because of his sermons.
He was born in Kelvedon, Essex in 1834, to a family of clerics. He became a Baptist and began preaching in rural Cambridgeshire.
The style of his sermons, his harmonious voice, and his oratorical skills made him famous in a few months. He was invited to preach in London where he became "the preaching sensation"
Throughout his life, he evangelized around 10 million people and often preached 10 times a week in different places.
Spurgeon's sermons, commentaries, devotionals remain influential after his death in 1892. His sermons have been translated into several languages and are still one of the best-selling series of writings in history.
– It is an audio Bible. Listen to the Bible and enjoy a new way of experiencing the Word of God!
Touch the audio icon to select the chapter or verse you want to hear. You can adjust the sound settings (speed, volume, treble, bass, etc.)
– Offline use. You can read or listen to the Bible without using an Internet connection
– The app allows users to highlight and bookmark verses as well as create notes.
Add verses to favorites and access them quickly and easily whenever you want.
– Send verses by email, SMS or WhatsApp and share verses on social networks, for example, Facebook, Twitter or Instagram.
Share your love for the Bible with others!
– Easily increase or decrease the font text size for a comfortable reading.
– Switch into night mode to invert the color of your screen for a high-quality reading
– Every time you open your Bible app, it goes back to the last read verse.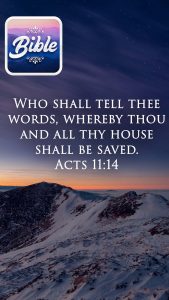 Find 10 minutes each day for deeper study and meditate on the teachings of the Scriptures.
Get your personal Bible study now! It is simple to install and very easy to use!
The Bible is divided into the Old and the New Testaments:
The Old Testament is a collection of 39 books and it contains the creation of the universe, the history of the patriarchs, the exodus from Egypt, the formation of Israel as a nation, the decline and fall of the nation, the Prophets (who spoke for God), and the Wisdom Books.
The books are:
Genesis, Exodus, Leviticus, Numbers, Deuteronomy, Joshua, Judges, Ruth, 1 Samuel, 2 Samuel, 1 Kings, 2 Kings, 1 Chronicles, 2 Chronicles, Ezra, Nehemiah, Esther, Job, Psalms, Proverbs, Ecclesiastes, Song of Solomon, Isaiah, Jeremiah, Lamentations, Ezekiel, Daniel, Hosea, Joel, Amos, Obadiah, Jonah, Micah, Nahum, Habakkuk, Zephaniah, Haggai, Zechariah, Malachi.
The New Testament is a collection of 27 books written in Greek. It consists of the narratives of the life and ministry of Jesus, the acts of Apostles, letters called epistles written by various authors and the book of Revelation, which is a book of prophecy.
The books are:
Matthew, Mark, Luke, John, Acts, Romans, 1 Corinthians, 2 Corinthians, Galatians, Ephesians, Philippians, Colossians, 1 Thessalonians, 2 Thessalonians, 1 Timothy, 2 Timothy, Titus, Philemon, Hebrews, James, 1 Peter, 2 Peter, 1 John, 2 John, 3 John, Jude, Revelation.